Photos from a 15-year-old boy and his classmate who is just 16's, whose wedding ceremony have gone rife on the internet and received a public uproar.
The rare marriage reportedly took place between two South Sudanese teenagers, Buomkuoth Wiyual and Nyabuay Thiol Biel.
These two Lovebirds got married on December 18, 2021, in Gambella, Ethiopia. The ceremony was reportedly graced and blessed by both parents and religious leaders.
Social media users who have chanced upon these photos have severely blasted the minor's parents as well as the pastor who ordained the unfit marriage ceremony.
John Ndungu who first shared pictures from the wedding ceremony hurled heavy insults at the kids' parents and the clergyman who officiated such an abomination.
He wrote;
I BLAME THE PARENTS AND THE RELIGIOUS LEADERS. THEY'RE SUPPOSED TO BE ROLE MODELS AND MENTORS TO YOUNG GENERATIONS. SOME PARENTS ARE SO MATERIALISTIC, I SAY THIS BECAUSE THE GIRL'S PARENTS I'M VERY SURE WERE AFTER THE DOWRY WHICH IN SUDANESE CULTURE IS HEFTY AMOUNT OF MONEY OR HERDS OF CATTLE

WHERE WILL THE TEENS START LIFE FROM? NO EDUCATION COMPLETED I'M SURE. HOW WILL THEY TAKE CARE OF THEMSELVES IN TERMS OF BASIC NECESSITIES? NO JOB, NO MONEY, EDUCATION CUT SHORT, I PITY THE GIRL #NYABUAYTHIOLBIEL, SHE WILL BE MADE A MOTHER AT VERY TENDER AGE. NO MOTHER EXPERIENCE AND ALL THAT.
Check out the photos and screenshots below to know more…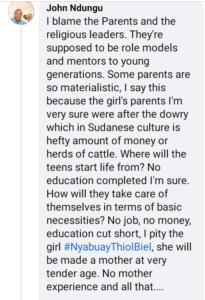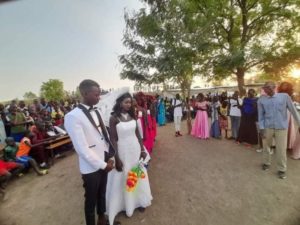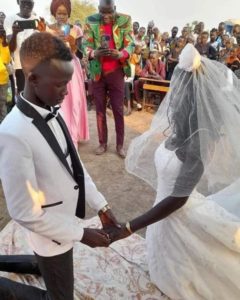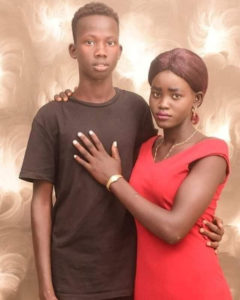 Visit GQWAVES.COM for more related stories.
GQ News Room – With Ansu Stephen Kwaku